World Immunization Week 2022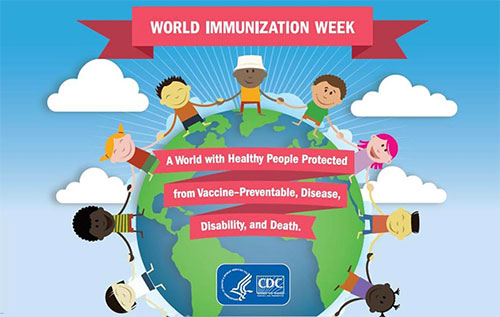 24 to 30 April
Long Life for All
In pursuit of a long life well lived
World Immunization Week, celebrated in the last week of April, aims to highlight the collective action needed and to promote the use of vaccines to protect people of all ages against disease.
WHO works with countries across the globe to raise awareness of the value of vaccines and immunization and ensures that governments obtain the necessary guidance and technical support to implement high-quality immunization programs.
The ultimate goal of World Immunization Week is for more people - and their communities - to be protected from vaccine-preventable diseases. To learn what CDC is doing to increase nationwide vaccinations rates, go to Healthy People 2030 Vaccination topic Vaccination - Healthy People 2030 | health.gov.
ATHNA and CDC support WHO efforts to promote vaccination and global public health. World Immunization Week is one of eleven official campaigns marked by the WHO, along with World Health Day, World Blood Donor Day, World No Tobacco Day, World Tuberculosis Day, World Malaria Day, World Patient Safety Day, World Hepatitis Day, World Antimicrobial Awareness Week, World Chagas Disease Day and World AIDS Day.
Please visit www.who.int/campaigns/world-immunization-week/world-immunization-week-2022 to learn more about the World Immunization Week 2022 campaign, and to download resources and assets available in the six UN languages and editable design files.