Book Review: Do You Provide Health Services to College Students?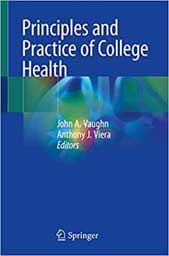 Not sure how to prepare study abroad students? Wondering about resources for students with anxiety or eating disorders? Looking for new ways to fund student health services?
Whether you practice within a college health service or care for college students in another setting, the newly published Principles and Practice of College Health is a worthwhile guide for delivering comprehensive quality health services to this population. Just released by Springer, this important text is edited by John A. Vaughn, M.D., Director of Student Health at Duke University since 2013 and Anthony J. Viera, M.D., Chair of the Department of Family Medicine and Community Health at Duke. A first of its kind, the work is available as an e text or soft cover and includes 24 chapters contributed by 38 multidisciplinary authors active in the field. Clinical titles include: "Eating Disorders in College Health," "Contraception for College Reproductive Health," "Sexual Health," "Campus Management of Infectious Disease Outbreaks," "Nutrition Services," and "Substance Use and Abuse: Alcohol, Tobacco, and Other Drugs." A separate section, "Organizing and Administrative Considerations for College Health," addresses such important topics as organizational structures for college health services, funding student health services, and innovative service delivery.
Of special interest to travel health professionals is the chapter contributed by ATHNA Past Presidents Julie Richards and Gail Rosselot that provides a step-by-step approach to the delivery of pre- and post- travel services to college students, including assessment forms that can be used for both encounters.
Principles and Practice of College Health is available online as an e book or soft cover through Springer, Amazon, and your local bookseller. Individual chapters are also available for purchase on the Springer site.
Note: Neither ATHNA nor authors Richards or Rosselot receive any remuneration for this publication.