Former Board Member and ATHNA Fellow Achieves Professional Goal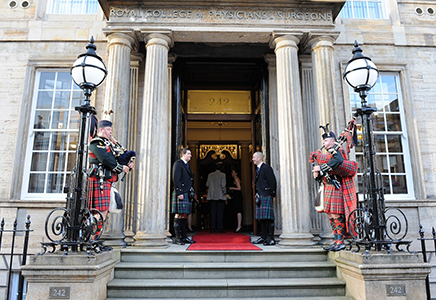 In Sue Ann's words:
The ceremony was overwhelming: from the robing, the official photographs, and on to the majesty of the setting in Bute Hall, it was hard to not tear up! Of course, having to focus on not tripping on the steps up to the dais kept emotions in check. The day's event began with the piper leading Jackie Taylor - President, RCPSG and the Deans of each branch of the college into to Bute Hall. The physician and surgeons received honours first, followed by the dentists then the Travel Medicine cohort. Needless to say, it would have been best for my nerves to get it over earlier, but not my call. The recipients of the honours came from around the world as admittance to the college is a huge validation for practitioners in Asia and Africa. For me, this was a personal/professional goal. This honour is all the more special as it is not one I would get in the US: nurses here do not get invited to join the MEDICAL associations.
To reach this goal, I have counseled many people on how to travel safely and maintain health, had some fabulous mentors to help me along the way, developed and presented educational programs for medical professionals and lay-persons, help establish a nursing organization for this specialty and with a committee from this organization, developed criteria by which all nurses in the US should practice. Another goal met this year: authoring a section in the 2020 CDC Health Information for International Travelers - the international standard for medical professionals.
I had my own cheering squad for the day, which made the event even more special: my sister Nancy flew in from Virginia, Alexander Millar, Tom Higgins and Billy Couper. The assembly moved to the Hunterian Museum for a short cocktail reception as we were rained (and chilled) out of holding it in the Cloisters before moving on to the College building for jazz, canapes and drinks. We ended the evening with a celebratory dinner at The Bothy for classic Scottish fare.
Oh, and the tripping up the stairs thing: that happened when I had a picture taken with the Dean of Travel Medicine Jane Chiodini and her husband Dr. Peter Chiodini on the dais after the museum reception. At least it wasn't in front of the whole audience!
Historical note: The Royal College was chartered by King James VI on November 29, 1599 making it 420 years old and predates RCPS-Edinburgh by 82 years.