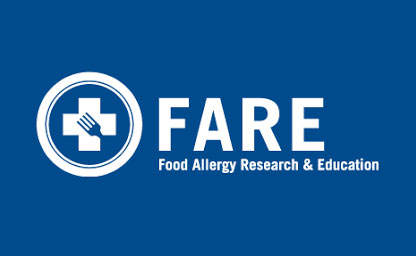 Food Alergy Research and Education
May has been designated as Food Allergy Awareness Month, and this year Food Allergy Awareness Week (May 10 – May 16, 2020) will shed light on the public health crisis that affects more than 32 million Americans. As travel health nurses (THNs) we know that food allergies can present serious challenges to our travelers. An organization such as FARE www.fare.org can be a valuable resource when counseling our patients.
SueAnn McDevitt, longtime ATHNA member and ATHNA Fellow, is co-author of the "Highly Allergic Traveler" section in the 2020 CDC "yellow book," Health Information for International Travel. That resource includes key assessment questions and important health education topics to help THNs prepare travelers at risk for a severe allergic reaction.
To learn more about food allergy prevention, diagnosis, treatment and how individuals with food allergies cope, FARE is offering a week of special educational activities:
Monday, May 11, 2020: "Help Reduce the Risk in Infants" Facebook Live with Dr. Ruchi Gupta
Tuesday, May 12, 2020: FARE's first Virtual Symposium: "Managing Food Allergies during COVID-19"
Wednesday, May 13, 2020: FARE's Inaugural Top 9-Free Meal Swap Challenge in honor of Anaphylaxis Awareness Day
Thursday, May 14, 2020: "Food Allergy 101: A Crash Course for the Newly Diagnosed"
Friday, May 15, 2020: A preview for a food allergy primer from the power mom duo Dr. Kari Nadeau and philanthropist Sloan Barnett
Wednesday, May 20, 2020: The FASTER Act (H.R. 2117, S.3451): An Update from Washington with special guest, Congresswoman Doris Matsui (CA-6)